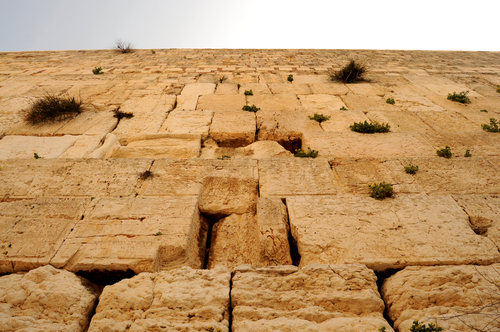 click ekev 2022 for download
THE ART OF HUMBLE STEPS
Humility is the only way to get close to G-d, the only path, the one ladder.  כִּי֩ כֹ֨ה אָמַ֜ר רָ֣ם וְנִשָּׂ֗א שֹׁכֵ֥ן עַד֙ וְקָד֣וֹשׁ שְׁמ֔וֹ מָר֥וֹם וְקָד֖וֹשׁ אֶשְׁכּ֑וֹן וְאֶת־דַּכָּא֙ וּשְׁפַל־ר֔וּחַ לְהַחֲיוֹת֙ ר֣וּחַ שְׁפָלִ֔ים וּֽלְהַחֲי֖וֹת לֵ֥ב נִדְכָּאִֽים: (Yeshayahu 57;15) As holy as G-d is, He is with, and makes Himself secondary to, those who are humbled: the sick, the poor, the weak, and broken-hearted. (Sotah 5a) In G-d's eyes, there is nothing more complete than a broken heart.
Life problems mostly don't even begin for the humble. The signs that you have a humble heart, according to Orchot Tzaddikim, are, 1) When someone embarrasses you, angers you, and you could respond and you don't. 2) When bad things happen, and a person accepts G-d's ways. 3) When people sing your praises, or reveal your faults and weaknesses, you don't take it personal. 4)If G-d blesses you with abundance, how you treat people. 5) When you hurt someone physically or verbally, and you don't need that person, but you still go and ask forgiveness. 6) Speaking softly, dressing simply, not running after worldly pleasures.
The Or Hachaim teaches us something amazing. There are four things that are needed for your prayers to pierce the Heavens, and the secret recipe is hidden in the passuk, וָאֶתְחַנַּ֖ן אֶל־יְקֹוָ֑ק בָּעֵ֥ת הַהִ֖וא לֵאמֹֽר And I pleaded to YKVK at that time, saying…
First, and foremost, when you pray, you need to beg. G-d will never answer the prayers of the haughty. You can't pray as if you deserve anything, but, rather, that you are asking, begging, like a poor man, for something you do not deserve. The root of תחנון is from the words, חן which means grace, which is from the root, חנם, for free. I know, G-d, I don't deserve this; I don't have the merit for this. But please, G-d, I am begging! Even Moshe Rabbenu, asked G-d to enter Israel not in his own merit, but in the merit of G-d's אוצר מתנת חינם, treasure chest of free gifts! The Midrash tells us, that G-d's treasure chest of free gifts, is greater than His treasure chest of gifts that people deserve! (Tanchuma Ki Tisa 27)
One thing I learnt on my fundraising trip this last month is – if you don't beg, you don't get! Of course, you have to try and prove that what you are fundraising for is from the best investments of Olam Haba for the donor, but if you don't beg, the rational pitch alone, without humbling yourself, doesn't work!
No. 2.  אל יקוק. You've got to tell G-d, I only have You to rely on! You are my Shadchan, You are my Doctor, You are my Brains, You are my Strength, You are my power!  No. 3. בעת ההיא At that time. There are special times when it is more auspicious to pray. Midnight, after Tikkun Hatzot. Before dawn. Minha Shabbat. Erev Rosh Hodesh. When you pray the same time, each day.  No. 4. לאמר. Saying. You need to be explicit in what we are beseeching G-d to give us. When you bless a person, it is not enough to say, תזכה לשנים רבות. May you merit longevity. You need to add to that, תזכה לשנים רבות, נעימות וטובות. That the years be pleasant and good. When you ask for children, be explicit about what type of children you are asking for.
The other day, I took one of the wealthiest people I know to the Kotel. The person told me that he didn't know what to say to G-d, what to ask for. I told him, before you ask, first, thank Him for all you have. וְזָֽכַרְתָּ֙ אֶת־יְקֹוָ֣ק אֱלֹהֶ֔יךָ כִּ֣י ה֗וּא הַנֹּתֵ֥ן לְךָ֛ כֹּ֖חַ לַעֲשׂ֣וֹת חָ֑יִל And then, as long as you come from a place of humility, and you beg for what you want from Him, G-d will answer your prayers.
The Kotel is one of the most amazing places to visit. Everyone feels something special, just standing in front of the ancient stones of the Wailing Wall. Your heart is touched, the moment you touch it. What happens there that is so special?
When a person is haughty, when a person feels that he deserves what he has and what he has is not directly from G-d's mercy and grace, when a person shows off his wisdom, wealth, looks, strength, fame, or any of the other blessings G-d has granted him, this chases G-d away. כל אדם שיש בו גסות הרוח – אמר הקדוש ברוך הוא: אין אני והוא יכולין לדור בעולם (See Sotah 5a) Haughtiness is somewhat of a G-d repellent; it is the most foul odor to G-d. תּוֹעֲבַ֣ת יְ֭קֹוָק כָּל־גְּבַהּ־לֵ֑ב It is an abomination to YKVK, anyone with a haughty heart! (Mishlei 16;5)
But there is one place that G-d "can't" run away from us, no matter how much haughtiness we have in our hearts: The Kotel. אמר רבי אחא לעולם אין השכינה זזה מכותל מערבי של בית המקדש, שנאמר הנה זה עומד אחר כתלנו  (Midrash Tanchuma, Shemot: 10) So what does G-d do? He "can't" leave, but it has the pungent smell of haughtiness!!! He takes away your haughtiness from you, when you are at the Kotel! You get humbled, even if you are wearing the snazziest sunglasses at the Wall! This is hinted at in the first letters of the words we pray at the end of the Amidah,  ונפשי כעפר לכל תהיה , and my soul should be as dust to all, which spell Kotel, in Hebrew.
Humility is what makes men great. King Shaul, King David, were appointed kings by G-d, because of their supreme level of humility. The way this week's parasha begins is fascinating, as well. It starts off וְהָיָ֣ה׀ עֵ֣קֶב תִּשְׁמְע֗וּן אֵ֤ת הַמִּשְׁפָּטִים֙ הָאֵ֔לֶּה… And it will be, because you will heed these laws and keep them and perform,… and continues to say that G-d will shower the observant with the blessings of the Torah. The word עקב , literally, means heel; but here, it means, because. And the commentators learn from the usage of the word heel different ideas. Rashi learns that the passuk is teaching us about the importance of those Mitzvot that people "step on", hinted by the word "heel", referring to those Mitzvoth that we don't give enough attention.  If a person is particular to keep the small details of Halacha, you can be sure that he will keep the bigger details, as well.
The other day, I was learning with my son the Gemara in Berachot 6a that talks about demons, and that says that each one of us, has 1000 demons on our left side, and 10,000 on our right side. Every sin we do, we create a demon that will take its toll, through some pain and suffering we might have to go through, big or small, unless we repent and pray. The Passuk says, in Tehillim, a prayer that King David makes, one that we say each Motsaei Shabbat and at the time of burying the dead.  יִפֹּ֤ל מִצִּדְּךָ֨׀ אֶ֗לֶף וּרְבָבָ֥ה מִימִינֶ֑ךָ אֵ֝לֶ֗יךָ לֹ֣א יִגָּֽשׁ:  A thousand will fall at your left side, and ten thousand from your right hand; and it will not approach you to harm you. What does this mean?
The right side is the side of Hessed, the side which represents the Positive Mitzvoth, which are the mitzvoth of love. The left side of a person is the side of Gevurah/ Din, and it is represented by the Negative Mitzoth, which are the mitzvoth of fear. Most people are worried about not transgressing the Negative commandments, so there are only 1000 demons/transgressions the person needs to deal with. But how many positive commandments do people trample on? Ten times more than that! All the times when someone could learn Torah, trust in G-d, serve Him with a focused prayer, fear Him and love Him! There are 10,000 demons that are created from all those Positive Mitzvoth we just trample on, and step over! (Magid Taaluma)
The other possible explanation of the strange usage of the word עקב, heel, here means, humility. If you read the passuk this way, it says, if you will be humble, you will be able to learn and understand. The only way to listen will, to learn, is through humility. In coaching, this is one of the fundamentals of what we were taught. The coach needs to talk no more than 20 percent of the session, and actively listen, so that the client will talk the other 80 percent. This is an art in of itself.
I recently picked up a book, written by a former FBI Agent, about how they get their most important information. (Never Split The Difference – Chris Voss) It is not from snooping into your phone cameras and listening in to your phone calls. It is, simply, that people are ready to tell you anything, if you just ask open ended questions (Not questions that they can answer with short answers like yes, no, etc.), add some empathy, mirror the other person's tone of voice and listen well. The more the FBI makes it as if they know, as if they have power or control, the less information they get. If you want to listen well, you need to be the "heel" of the conversation. The only person who ever received the Torah from G-d was the humblest of men, Moshe Rabbenu. משה קבל תורה מסיני. After that, Moshe passed it on, to those who passed it further. ומסרה ליהושע, ויהושע לזקנים He passed it to Yehoshua, and Yehushua passed it to the Elders. But Yehoshua could never receive the Torah, like Moshe did; therefore, it does not say,יהושע קבל ממשה, that Yehoshua received from Moshe. Because humility is the way that we receive.
And this is the way a person can change all his habits, as the book "Atomic Habits" describes, making the smallest changes. Ekev, baby steps, which is the outcome of a humble outlook at self-help. I can't change myself, but I can change the smallest parts of me, and over time, I will change.