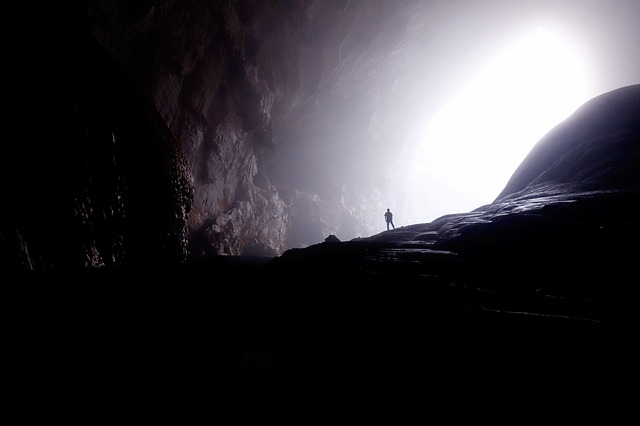 click vayigash 2018 to download
NEVER, EVER, ALONE
Parashat Vayigash
vayigash 2018Yaakov was afraid of going down to Egypt. וַיֹּ֕אמֶר אָנֹכִ֥י הָאֵ֖ל אֱלֹהֵ֣י אָבִ֑יךָ אַל־תִּירָא֙ מֵרְדָ֣ה מִצְרַ֔יְמָה כִּֽי־לְג֥וֹי גָּד֖וֹל אֲשִֽׂימְךָ֥ שָֽׁם: And G-d said, I am the G-d of your father. Do not fear to go down to Egypt, for I will make you into a great nation there. אָנֹכִ֗י אֵרֵ֤ד עִמְּךָ֙ מִצְרַ֔יְמָה וְאָנֹכִ֖י אַֽעַלְךָ֣ גַם־עָלֹ֑ה וְיוֹסֵ֕ף יָשִׁ֥ית יָד֖וֹ עַל־עֵינֶֽיךָ: I will go down with you to Egypt and I will take you up as well, and Yosef will place his hand on your eyes.
The Or HaChaim asks a few questions. What was Ya'akov's great fear in going down to Egypt? Was he afraid of being enslaved? Yaakov was not afraid of anything! He believed in the power of a ישראל; he used this power to fight angels! So, what was he afraid of? Also, how did G-d console him? After all, they did go down to Exile, and they were enslaved!
The Netivot Shalom continues this train of thought. We find another time when the Jews went into Exile. עַ֥ל נַהֲר֨וֹת׀ בָּבֶ֗ל שָׁ֣ם יָ֭שַׁבְנוּ גַּם־בָּכִ֑ינוּ בְּ֝זָכְרֵ֗נוּ אֶת־צִיּֽוֹן: On the rivers of Babylon, there we sat, and we also wept, when we remembered Tzion. (Tehillim 137) What were they crying about? Were the Jews afraid of the Babylonian Exile? A Jewish soul is strong enough to go through the worst conditions.  So, what were they afraid of?
The Zohar tells us how Yechezkel consoled those weeping Jews. G-d called out to all of His angels, to His ministering angels, to His multitudes, and to all of the hosts of the Heavens, and He said to them, What are you doing here? My Children are in exile, and you are here? Get up, all of you, and go down to Bavel, and I am coming with you.  When the prophet Yechezkel said to them that G-d would be with them in Bavel, it consoled them. Because that was all that they wanted to hear (Zohar Shemot B).
And this was Ya'akov's fear. That he would be alone, that G-d would not be there with him, or with his children. But G-d said, יעקב אל תירא עבדי  Yaakov, my servant, do not fear. I will come down with you; I will be there with you. In the Shmutz of Egypt. Down till the lowest level of impurity. And if you become too deeply caught up in the impurity of Egypt, I will save you, before you reach the point of no return.
No matter what you are up against. No matter who you are up against, G-d is there. When Moshe had to face Pharaoh, what was he worried about? How could Pharaoh be so, so far from G-d? After experiencing seven plagues, how could his heart still be as rigid and immovable as a stone? How did G-d calm Moshe down? בֹּ֖א אֶל־פַּרְעֹ֑ה כִּֽי־אֲנִ֞י הִכְבַּ֤דְתִּי אֶת־לִבּוֹ֙  Come to Pharaoh- I am already there waiting for you; for I have hardened his heart. It is all ME! I am in his heart, and that is why it is so hardened! (Shem Mishmuel)
The Baal Shem Tov would teach that there is no person on earth who does not have his own, custom-fit exile.   קָרְבָ֣ה אֶל־נַפְשִׁ֣י גְאָלָ֑הּ  (Tehillim 69).  There is a beautiful prayer that many Jews say before Kiddush on Friday night.שתרחמני עוד בגלותי לגאלני.  May You, Hashem, have mercy on me, even in my exile, to redeem me. No two people's problems are alike. Each one has his/her own darkness. How does one deal with his/her own exile?
The Brisker Rav would teach the trick – King David said it best:  שִׁבְטְךָ֥ וּ֝מִשְׁעַנְתֶּ֗ךָ הֵ֣מָּה יְנַֽחֲמֻֽנִי: G-d, Your שבט Your rod that You rebuke with, and Your walking stick (that one leans on), will console me (Psalms 23).  What? I can understand how the cane on which one leans can be a consolation. But how can the stick that one is struck by be a consolation? The answer is that if it is G-d behind the stick, if it is one's own Father who is delivering the blows only out of love, that, itself, is a consolation. For it means that G-d is there with you the whole time.
The Shem Mishmuel writes, that in the perspective of Judaism, all the problems in your life are because you do not feel that you have G-d in your life. As the passuk says, וְחָרָ֣ה אַפִּ֣י ב֣וֹ בַיּוֹם־הַ֠הוּא וַעֲזַבְתִּ֞ים וְהִסְתַּרְתִּ֨י פָנַ֤י מֵהֶם֙ וְהָיָ֣ה לֶֽאֱכֹ֔ל וּמְצָאֻ֛הוּ רָע֥וֹת רַבּ֖וֹת וְצָר֑וֹת וְאָמַר֙ בַּיּ֣וֹם הַה֔וּא הֲלֹ֗א עַ֣ל כִּֽי־אֵ֤ין אֱלֹהַי֙ בְּקִרְבִּ֔י מְצָא֖וּנִי הָרָע֥וֹת הָאֵֽלֶּה And I will be angry on that day, and I will leave them, and I will hide My Face from them, and they will be devoured and many evils and tragedies will befall them. And they will say on that day, it is because there is no G-d in my midst that these evils have been visited upon me. וְאָנֹכִ֗י הַסְתֵּ֨ר אַסְתִּ֤יר פָּנַי֙ בַּיּ֣וֹם הַה֔וּא עַ֥ל כָּל־הָרָעָ֖ה אֲשֶׁ֣ר עָשָׂ֑ה כִּ֣י פָנָ֔ה אֶל־אֱלֹהִ֖ים אֲחֵרִֽים: And I will hide My face on that day, from all the evil that is done, for they turned to other gods. (Devarim 31; 17)
How do these pesukim make sense? How could it be that the fellow who realizes the cause of his pain and suffering and even says Viduy that it is because G-d is not in his midst… that G-d will continue to punish him with the worst punishment- that G-d will hide His face from him?
The Shem Mishmuel answers that this is the reason why this fellow is suffering and will continue to suffer. Because he believes that G-d is not with him in the darkness. And that is why G-d will continue to hide His face! Because the person does not recognize that this difficulty, this darkness, has G-d behind it. Judaism explains that darkness is not the absence of light. Darkness is also G-d's creation. יוצר אור ובורא חושך .  Darkness means that G-d is causing lack of light. G-d gives a person difficulties to enable him to grow.  And just like the Jews needed the Egyptian exile to become a great nation, so, too, each person has his own exile, because He wants to enable a great G-dliness to shine through it into the world.  So, when a person does not recognize that whatever "goes wrong" in his life is being orchestrated by G-d – for a very good reason – G-d hides Himself even further. He brings darkness, then more darkness…until the intensity of the darkness is so great, that it could not have been caused by anything other than Alm-ghty G-d. Once the one who is in suffering realizes this, the amazing happens: The darkness vanishes, in a blink.
The Zohar tells us the story of Chananya, Mishael and Azarya. Nebuchadnezzar threatened to throw them into the raging flames of a huge furnace, if they would not bow down to the idol. When they were tied up to be thrown in, each one raised his voice, in front of all the nations, kings and ministers that were gathered there to bow down.  Chananya said,  יְקֹוָ֣ק לִ֭י לֹ֣א אִירָ֑א מַה־יַּעֲשֶׂ֖ה לִ֣י אָדָֽם: G-d is for me; I will not fear. What can man do to me?  יְקֹוָ֣ק לִ֭י בְּעֹזְרָ֑י וַ֝אֲנִ֗י אֶרְאֶ֥ה בְשֹׂנְאָֽי G-d is with me through my helpers, therefore, I can face my foes.  Mishael opened his mouth and said, וְאַתָּ֡ה אַל־תִּירָא֩ עַבְדִּ֨י יַעֲקֹ֤ב נְאֻם־יְקֹוָק֙ … כִּֽי־אִתְּךָ֥ אֲנִ֛י לְהֽוֹשִׁיעֶ֑ךָ:  And you, do not fear, my servant Yaakov, said G-d… For I am with you, to save you… When the gentiles present heard that these youths still trusted G-d's promise to be with Yaakov and his descendants in Exile, they burst out laughing. Azarya cried out  -Shema Yisrael… And at that moment, HKBH said to His Throne, to the Shechina, "Tell me, in the merit of which of these three statements should I save these three Tzaddikim?" And the Shechina answered, in the merit of the statement that was laughed at, the mention of Your promise to be with Yaakov and his descendants in Exile". So, G-d saved the three tzaddikim in that merit, and all those who laughed were burnt to death, instead of these three (Zohar Acharei Mot 57a).
How does one bring G-d into his own exile? How does one see that G-d is with him, no matter what? One needs wide screen, panoramic, full high-definition awareness for this. One needs time, alone. To think in quiet. As Rabbenu Bachye explains, the reason why so many of our leaders were first shepherds was to give them an opportunity to do התבודדות, to have time with G-d. And when we spend time alone with G-d, only then do we realize how we are never, ever alone.